Welcome
Welcome to RaceConflicts universe! Join other adventurous players, in a tight, eve-revolving race to become the ruler of the realms within Raceconflict's world.
What is a MMORPG?
MMORPG stands for massive multiplayer online role-playing game. In a MMORPG, thousands of players exist in the same game world at the same time. This creates an incredibly rich and active environment in which interesting things are constantly taking place.
What is RaceConflicts?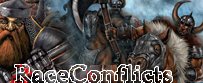 Raceconflicts is one of the most complex neverending free web based massive multiplayer online role playing strategy browser game on the internet.
Raceconflicts is a game with very few constraints, in which you can become a feared warrior, a highly developed city builder, or a seeker of knowledge as you please. The game has it's own time, seasons, weather, and a fully developed universe, still growing and expanding. By becoming an explorer of this world, you will start with few resources, but a wide range of possibilities. Your actions define your development, and the gameplay experience thus varies from one player to another. Other features include: 8 unique races, 3 different classes of military units, gods, religion, health, food production, mercs, spies, and various army and city upgrades. Build your kingdom, raise your hero, battle with monsters or other kingdoms, read books are just a few activities you can do in the world of Raceconflicts.

Features include:
free game, no money will ever be asked in order to gain certain advantages
it is a browser game so no download required
designed to be played forever so from the official start of the game no account restart will ever happen
new features will constantly be added
compatible with all browsers on the market
depending on your style of play(economy based or war based) you can develop your kingdom and be among top players with very little play time(5 minutes of play at 2-3 days will be enough)
even if you do not play, your kingdom will still develop and defend against attackers
Purpose:
To have fun and build a kingdom worthy of a mighty leader
To gain experience in order to raise your hero's level
To be among the top players in different areas of the game
To build a kingdom so powerfull that will become untouchable even if you do not play so often than you used to.